News - Mon 19/05/2014 - 21:48 EDT
White Sox and Royals Play AL Central Contest in Kansas City Tonight
With just a handful of games on the MLB schedule for Monday night, we have chosen to watch the one featuring the White Sox and the Royals at Kauffman Stadium in Missouri. These two teams are AL Central rivals and the White Sox could be in trouble without the services of Jose Abreu (disabled list). Due to this, we will back the Royals at home over the White Sox tonight.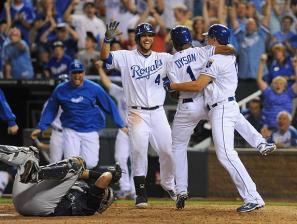 White Sox and Royals Play AL Central Contest in Kansas City Tonight
Royals trying to move up the AL Central ladder
Kansas City comes into tonight's game with a record of 22-21 and seven games behind the Tigers in the division. They are alone in second-place by just a half-game. They can push the White Sox even further down the standings with a win in the series opener tonight. Kansas City sends veteran Jason Vargas to the mound with an ERA of 3.00 and a record of 4-1 as he aims for a fifth win on the season.
White Sox have to make due with Abreu
Chicago will need to find an offensive replacement for slugging rookie first baseman Jose Abreu now that he is on the disabled list. Abreu was among the league leaders in home runs with 15 and RBIs with 42 through his first 44 Major League games. Veteran Paul Konerko will likely get the majority of the at-bats at first base while Abreu is out, but he is hitting just .192 on the season.
We head over to Bovada.lv to find the AL Central betting odds for the contest between the Royals and the White Sox on Monday night. Here, the Royals are favored to win at home with a line of -1.5 (-105) as they open a three-game set with the White Sox. Despite the favorable line, we are going to back Kansas City with 15 percent of our bankroll as we place our bet on the -195 money line later tonight.