News - Fri 05/12/2014 - 20:46 EST
Struggling Avalanche Take on Jets Friday Night in Winnipeg for Central Battle
The NHL provides us with a Central Division tilt on Friday night when the Jets host the Avalanche at the MTS Centre in Winnipeg. These two teams are right in the thick of things, but Colorado is really struggling to keep its head above water right now. Winnipeg has 30 points so far, just six points off the pace in the standings. We are going to put our money down on the Jets at home Friday night as they grab two more points.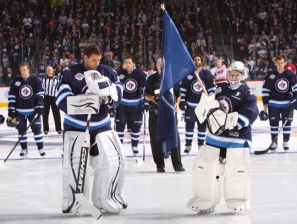 Struggling Avalanche Take on Jets Friday Night in Winnipeg for Central Battle
Are the Jets contenders in the Central this season?
Can the Jets make a play for the Central Division title this season? It sure looks like it through their first 26 games played as they have already accumulated 30 points. They are in fourth in the division and are within striking distance of the top spot. Winnipeg comes into this game following a win and has played to a 5-3-2 record in the last 10 games played.
Colorado trying to snap out of recent funk
The Avalanche have dropped three of their last four games coming into tonight and have not played well against the Jets of late. The Jets own a 5-1-2 record in their last eight games, including a 2-1, overtime loss earlier this season against the Avalanche. This is the second game of five in the regular season series between these two teams. Colorado sits just one point ahead of Dallas for last place in the Central. To make matters worse, the Avalanche have lost eight of their last 11 road games this season.
The Jets will look to continue their strong start to the NHL season with a home victory over the Avalanche on Friday night as we place our wager at TopBet.eu. The Jets are favorites in this game, and are the better team, which is why we will spend 10 percent of our bankroll on the Jets and the -145 money line.