News - Wed 03/12/2014 - 18:43 EST
San Antonio Look to Extend Win Streak to Nine Games Against Nets
The Spurs have begun the defense of their NBA title on a high note with a 13-4 record and eight consecutive wins coming into tonight's game with the Nets in Brooklyn. Despite a win in their last game, the Nets are just 3-7 in their last 10 games played. Despite their 13th win, the Spurs are in fifth in the Western Conference, which is hotly contested right now. We like the Spurs on the road as they win a ninth consecutive game tonight.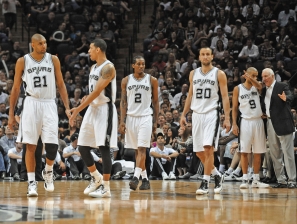 San Antonio Look to Extend Win Streak to Nine Games Against Nets
Spurs keeping pace with red-hot Western Conference teams
The Western Conference is above-and-beyond the better of the two conferences in the NBA right now. If things remain the same for the remainder of the season, we would be shocked if a team from the West did not win the NBA title. The Spurs are in the middle of defending their most recent crown and are doing so with a 13-4 record and eight-game win streak.
Nets barely holding onto eighth spot in Eastern Conference
Brooklyn is just 7-9 this season, which has them in eighth place of the Eastern Conference standings. The Nets have struggled in almost every facet of the game this season, including rebounding. Coming into their meeting with the New York Knicks on Tuesday, the Nets were ranked 23rd in the league in rebounding. By grabbing 49 boards in the win, they moved up to 20th in the league. Brooklyn is just 3-7 in their last 10 games played.
On Wednesday night, the Nets will host the Spurs in Brooklyn for an NBA contest. We will use the odds from Sportsbook.ag to place our wager. San Antonio should have no problem recording the victory, which is why we will drop 15 percent of our bankroll on the Spurs and the -8.5 (-110) spread as they win a ninth straight game and hand the Nets their 10th loss.