News - Fri 03/10/2014 - 05:32 EDT
Titans Look to End Three-Game Skid Sunday Versus Browns at Home
Week five of the NFL season is upon us as the Titans host the Browns on Sunday afternoon for an AFC contest. Both of these teams are off to rough starts as the Titans are 1-3 and the Browns are 1-2. Tennessee is in danger of losing four straight games for the first time in four seasons while Cleveland could be moving closer to the Johnny Manziel era. We will back the Titans at home on Sunday.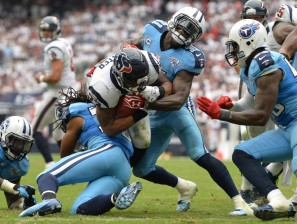 Titans Look to End Three-Game Skid Sunday Versus Browns at Home
Titans struggled through first four games of the season
New head coach Ken Whisenhunt knew that the first four games of the season would be incredibly difficult as three of them came against 2013 playoff teams. The Titans have been outscored 100-34 in their three losses to Dallas, Cincinnati and Indianapolis. The team opened their season with a victory of the Kansas City Chiefs, their lone win versus a 2013 playoff team this year. Tennessee hopes to turn their season around beginning on Sunday afternoon.
Browns could be moving closer to Manziel era in Cleveland
If the first half does not go well for the Browns in Nashville this week, Johnny Manziel could take over the quarterback reigns. The Browns are 1-2 and have dropped 22 of their last 24 road games overall. Cleveland had its bye week this past weekend and is still thinking positive about the season. Their two losses came on late-game field goals against Pittsburgh and Baltimore, both division rivals in the AFC North. Quarterback Brian Hoyer has three touchdowns and 716 yards passing this year and has not thrown an interception.
We head over to the sportsbook found at BetOnline.ag, where the host Titans are favored to win this game. We are going to drop 10 percent of our bankroll on the Titans and the -130 money line as they snap their losing streak with a much-needed victory over Cleveland.