News - Mon 17/11/2014 - 23:21 EST
Tampa Bay Out to Prove They are For Real Once Again with Visit to New York
After surprising the entire league last season, the Tampa Bay Lightning are off to a fast start to the 2014-2015 NHL season. With 26 points, the Lightning are just three points behind the Atlantic-leading Canadiens. They are also tied for second-highest point total in the entire league. New York sits in third place in the Metropolitan with 18 points and have lost two straight games. We are going to put our money down on the visiting Lightning tonight.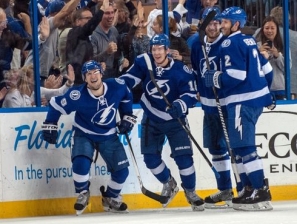 Tampa Bay Out to Prove They are For Real Once Again with Visit to New York
Lightning out to make statement to the league
This is the first meeting of three between these Eastern Conference rivals as the Lightning visit the Rangers in New York City Monday night. Tampa Bay will look to take down the defending Eastern Conference champs in an effort to make a major statement to the rest of the league that they are for real once again. Tampa Bay is just three points out of first in the Atlantic Division standings.
Rangers look to avoid a third straight loss
New York comes into this game with 18 points and two straight losses. They have fallen to seven points behind the Penguins for first in the Metropolitan, but are just four points out of second, which is held by the Islanders. To go with their losing streak, the Rangers have played to a 3-3-4 record in their previous 10 games. They are struggling to get their power play going, scoring just seven goals this season while allowing 11 to their opponents.
We are excited to watch this game tonight to see how the Lightning perform against the reigning Eastern Conference champions. We will place our wager at TopBet.eu, where the Rangers are slight favorites tonight. Despite this, we like Tampa Bay to win, which is why we will drop 15 percent of our bankroll on the Lightning and the -105 money line as they take home another impressive victory.