News - Fri 14/11/2014 - 16:22 EST
Suns Look to Keep Hornets Winless on the Road to Begin NBA Season
The Phoenix Suns and the Charlotte Hornets will meet for the first of two games this season on Friday night in Arizona. Charlotte has yet to win a game on the road this year, while Phoenix is 4-2 at home. Both teams enter this game on streaks, Phoenix having won two in a row and Charlotte having lost two in a row. We are going to put our money down on the host Suns as they take down the Hornets on Friday night.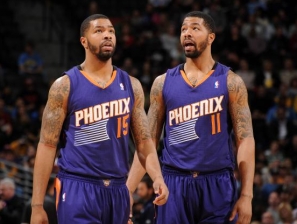 Suns Look to Keep Hornets Winless on the Road to Begin NBA Season
Suns ready for a tough battle at home Friday
Phoenix, despite being a better team at home this year, knows that tonight's contest with the Hornets will not be an easy one. Phoenix is looking for their six straight win over the Hornets when these two teams meet on Friday night. Phoenix is coming off an incredible win against the Nets in which they rebounded from a 19-point deficit to win the game by a score of 112-104.
Hornets still looking for first road win of the season
Charlotte has started the new NBA season with an 0-4 record away from home. They will have a tough time winning their first game on Friday when they visit the Suns. This is their third game of a four-game road trip. They have lost the first two games, including one to the previously winless Los Angeles Lakers. Charlotte is just 3-12 in a 15-game span against the Suns on the road.
On Friday night, the Hornets will look for their first road win of the season when they take on the Suns in Arizona. We are going to use the odds found at Sportsbook.ag, where the Suns are favored by a mere six points tonight. We will place 15 percent of our bankroll on Phoenix and the -240 money line as they grab another victory over the Hornets in this series.