News - Fri 22/11/2013 - 16:11 EST
Sunday NFL Online Betting: Chicago Bears vs St. Louis Rams
On Sunday, November 24, 2013 the St. Louis Rams will play host to the Chicago Bears at the Edward Jones Dome in St. Louis, Missouri for NFL action in week 12. Both of these teams have enjoyed somewhat successful seasons so far, with the Bears holding a 6-4 record and the Rams sporting a 4-6 record. We will back the host Rams to upset the Bears on Sunday afternoon in front of the home crowd.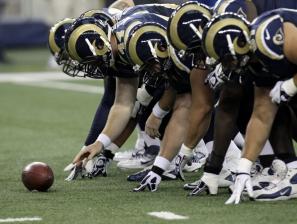 Sunday NFL Online Betting: Chicago Bears vs St. Louis Rams
St. Louis Rams: Moving closer to .500 mark
A win on Sunday over the Bears at home would help the Rams make a move closer to the .500 mark and help them make some noise in the NFC Wild Card race. They are pretty much out of the NFC West race with the Seahawks holding an impressive 10-1 mark, so they will need to win their remaining games to secure a Wild Card spot in the playoffs. The Rams are 2-3 at home and just 1-5 overall against conference teams.
Chicago Bears: Working to secure division lead
Chicago enters this contest with a 6-4 overall record, tying them for first place in the NFC North division with the Detroit Lions. Chicago has a 3-4 conference record this season and is relying on backup quarterback Josh McCown to grab another win on Sunday. So far, McCown has won his two starts in relief of injured starter Jay Cutler. A win would be the fifth straight one over the Rams. Chicago's defense has improved of late despite missing multiple starters.
For Sunday afternoon's NFL week 12 contest between the Chicago Bears and the St. Louis Rams, we find the betting odds at Bovada.lv and their online sportsbook. Even though they have the better record and McCown has been leading the way, we have to bet against them and for the upstart Rams at home with the -1 (-110) line on 10 percent of our bankroll.