News - Fri 28/11/2014 - 19:46 EST
Colts Aim for Easy Win Over Struggling Redskins Sunday Afternoon
The Colts are in a good position to win the AFC South as they hold a two-game lead on the rest of the division heading into play on Sunday. Indianapolis will host the reeling Redskins at Lucas Oil Stadium, who have benched Robert Griffin III for the foreseeable future. We are going to put our money down on the host Colts as they move to 8-4 this year and creep closer to a division title.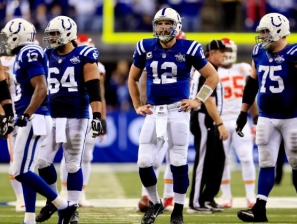 Colts Aim for Easy Win Over Struggling Redskins Sunday Afternoon
Colts don't want to overlook lesser opponent
The Colts are 7-4 and in first in the AFC South. They host the Redskins on Sunday, who have just one road win this year and are in last in the NFC East. Indianapolis knows it cannot overlook the Redskins one bit in this game or else it can become a trap and an ugly loss. With a two-game lead in the South, the Colts want to move one win closer to a division title.
Redskins send Colt McCoy to the field Sunday
Washington has handed the starting quarterback job to Colt McCoy, who will take the reigns from Robert Griffin III, who has been benched by Jay Gruden. It also looks as if Griffin could be on the way out in Washington if he does not improve his play. Griffin has lost all three of his starts since returning from an ankle injury. He has thrown just two touchdown passes to three interceptions this year.
On Sunday afternoon, the Colts will host the Redskins for an NFL contest. Indianapolis is looking for its eighth win of the season and a larger lead in the AFC South. Washington will see what McCoy can do as the starter with the Redskins pretty much out of the playoff hunt. We are going to put 15 percent of our bankroll on the Colts and the -500 money line at BetOnline.ag as they win this game.