News - Wed 21/05/2014 - 22:24 EDT
Spurs Going for 2-0 Lead Against Thunder at Home Wednesday Night
San Antonio and Oklahoma City meet for game two of the Western Conference Finals on Wednesday night in San Antonio. The Spurs already have a 1-0 lead in the series and will go for a 2-0 advantage prior to shifting the location to Oklahoma City for games three and four. The Spurs dominated the Thunder in game one and will do much of the same tonight as they take the 2-0 series lead.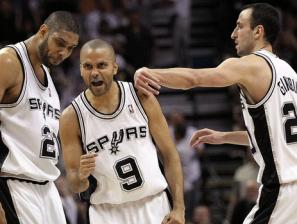 Spurs Going for 2-0 Lead Against Thunder at Home Wednesday Night
Spurs inching closer to NBA Finals berth
The Spurs are just three wins away from another berth in the NBA Finals. Led by Tim Duncan, Tony Parker and Manu Ginobili, the Spurs grabbed a 1-0 series lead with a 17-point victory in the opener. The Spurs will look to explode offensively for a second straight game so they can put some distance between them and the Thunder in game two and in the series. The Spurs need to stay dominant in the second half of game two to prevent a comeback by the Thunder.
Thunder cannot return home down 2-0 in series
With an 0-2 deficit in the Western Conference Finals staring them in the face, the Thunder must forget about game one and move forward right now. Any doubts coming into tonight's game could cause the Thunder to lapse and find themselves down big early in the game for a second straight contest. Kevin Durant and Russell Westbrook combined to score just nine points over the final 17 minutes en route to the loss.
We find the betting odds for tonight's West Finals game two between the Spurs and the Thunder over at TopBet.eu, where the Spurs are home chalk at -5.5 (-110). We will drop 20 percent of our bankroll on the host Spurs as they drop the Thunder into a 2-0 hole in this series. We like San Antonio to win with the -235 money line on Wednesday night.