News - Thu 29/05/2014 - 16:29 EDT
Rangers Return Home Thursday One Win from Stanley Cup Finals
As the Eastern Conference Finals shift back to New York, the Rangers are ready to secure the crown in front of their raucous fans against the Canadiens. New York led this series 3-1, but dropped a rough one, 7-4, in game five on the road. Prior to that loss, the Rangers had absolutely dominated the Canadiens. Now, they have a shot to grab the first spot in the Stanley Cup Finals and we think they will do it tonight.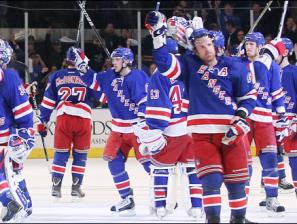 Rangers Return Home Thursday One Win from Stanley Cup Finals
Rangers out to rebound from tough game five loss
New York had the chance to win this series in Montreal earlier this week, but allowed seven goals to the Canadiens, who were able to save their season. The Rangers need to put that loss in their rear-view mirror, hopefully well out of view, so they can focus on the task at hand tonight. That task is winning game six at home to avoid a game seven on the road in Montreal.
Canadiens have renewed confidence in this series
Following an offensive outburst for seven goals in game five, the Canadiens have renewed confidence going into game six tonight on the road. Montreal will need much of the same effort if they want to force a game seven back at their place on Saturday. The Canadiens looked down-and-out in this series before game five, but have renewed the faith of their fans and some analysts too.
We head over to Sportsbook.ag to find the betting odds for tonight's game six between the Rangers and the Canadiens from Madison Square Garden in New York. The Rangers are home chalk despite the ugly loss this week, which is why we will bet 10 percent of our bankroll on New York to take home the Eastern Conference crown as we lay the line on Thursday night.