News - Wed 17/09/2014 - 20:22 EDT
Pirates Look to Retain Second NL Wild Card Spot in Battle With Red Sox
Pittsburgh, after a slow start to the season, has found itself in the thick of the playoff race with just days left in the regular season. The Pirates hold the second Wild Card spot in the National League by just 1.5 games over Milwaukee. Boston, after winning the World Series in 2013, will finish in the basement of the AL East division for the second time in the last three years. We like Pittsburgh at home in the middle game of this series.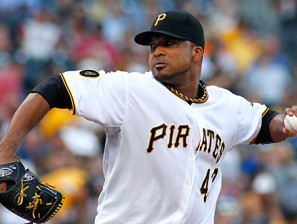 Pirates Look to Retain Second NL Wild Card Spot in Battle With Red Sox
Pittsburgh playing well at right time of the season
The Pirates are hitting their stride at the right time of the year as there are a little less than two weeks of games left in the schedule. The Pirates have won two straight, including the opener of this three-game series against Boston. Francisco Liriano will take the mound tonight for the Pirates as he searches for his sixth win of the season.
Boston playing out the string as cellar dwellers in AL East
The Red Sox finished dead-last in the East in 2012, 26 games out of first. Right now, they are in the bottom of the division, 25 games out of first place. In between the two season, the Red Sox won the AL East, the AL Pennant and the World Series in 2013. The Red Sox were never able to replace the loss of Jacoby Ellsbury, who went to the Yankees in free agency, and struggled mightily on the mound. This season cannot end soon enough for Boston.
We will place our bet on baseball tonight over at SportsBetting.ag, where the Pirates are home chalk to win this game. We like the -173 money line tonight, which is why we will drop 15 percent of our bankroll on Pittsburgh and the ML as they win the second game of this series on Wednesday night.