News - Mon 25/11/2013 - 22:03 EST
Philadelphia Flyers vs Florida Panthers Monday NHL Betting
National Hockey League fans have quite a few games to choose from on Monday, November 25, 2013 when it comes to watching games. The one we have chosen features the Philadelphia Flyers and the Florida Panthers at the BB&T Center in Sunrise, Florida. With just six wins on the season, the Panthers are one of the worst teams in the league. The Flyers have improved of late, which is why we will back them on the road.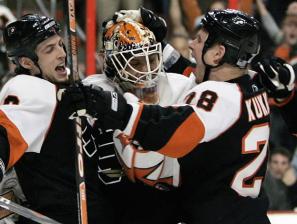 Philadelphia Flyers vs Florida Panthers Monday NHL Betting
Philadelphia Flyers: Finally at the .500 mark
After a long battle to begin the season, the Flyers have finally reached the .500 mark with a 10-10-2 record. It took them an impressive stretch of 10 games played in which they put together a record of 7-1-2 to do so. During their current three-game winning streak, the Flyers have scored 14 goals. It took the club 10 games at the beginning of the season to score their first 14 goals of the year. Philadelphia's most recent win came against the New York Islanders on Saturday by a score of 5-2.
Florida Panthers: One of worst teams in league
Florida is one of the worst teams in the entire league, sporting a record of 6-13-5, good for just 17 points. They sit in second-to-last place in the Atlantic Division of the Eastern Conference. They are however, six points ahead of the last place Buffalo Sabres. At home, the Panthers are 3-4-3 and have an overall goal differential of -27. They will need strong defense and an offensive outburst in order to secure a win at home over the Flyers on Monday night.
On Monday night, the Philadelphia Flyers take on the Florida Panthers in the Sunshine State for NHL action. We will visit the sportsbook found at Bovada.lv to acquire the betting odds for the contest. Despite having a better record, the Flyers are favored only by 1.5 goals tonight. Place 10 percent of your bankroll on the Flyers at -1.5 (+250) to win.