News - Sun 07/09/2014 - 20:47 EDT
Panthers Prepared for Another Successful Season as Year Opens in Tampa Bay
The first week of the NFL season is upon us as the Tampa Bay Buccaneers play host to the Carolina Panthers on Sunday afternoon. Cam Newton and the Panthers will look to win the NFC South title for a second straight season while Tampa Bay will look to return to the playoffs. Both of these teams made major roster changes in the off-season, but we like the Panthers in this game on Sunday afternoon.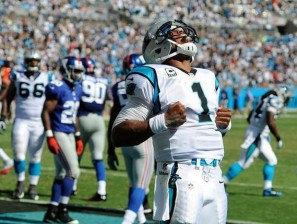 Panthers Prepared for Another Successful Season as Year Opens in Tampa Bay
Panthers look for return to post-season
Carolina began the 2013 season with a 1-3 record, but won 11 of their last 12 games to take home the NFC South title and earn a bye in the first round of the playoffs. The Panthers will have a new-look at wide receiver with the departure of Brandon LaFell and Ted Ginn Jr. Defensive end Greg Hardy could miss six games due to a suspension after a domestic violence arrest. Carolina will need help at quite a few positions if they want to win another South title.
Buccaneers have new QB and new attitude
Tampa Bay made major roster changes in the off-season, bringing in former Bears backup QB Josh McCown and former Bears head coach Lovie Smith was hired for the same position. A new play-making receiver was added in draft pick Mike Evans and the team traded for offensive lineman Logan Mankins to bolster the protection of the quarterback. Tampa Bay will need its running game to help even things out of offense this season.
Tampa Bay and Carolina renew their rivalry on Sunday afternoon from Raymond James Stadium in Florida. We will visit the sportsbook found at BetOnline.ag, where the Panthers are underdogs on the road to open the season. We will drop 10 percent of our bankroll on the Panthers and the OVER 39 total points scored at -110 in this NFC South contest.