News - Mon 26/05/2014 - 15:39 EDT
Pacers Visit Heat for Game Four of Eastern Conference Finals on Monday
Following a loss in game one of the Eastern Conference Finals, the Heat have won two straight and lead 2-1 heading into game four on Monday night. With tonight's contest in Miami, the Heat have the momentum and confidence to take a 3-1 series lead over the Pacers. Indiana could be in trouble if Miami gets off to a fast start in this game. We will take the Heat at home when we place our bets.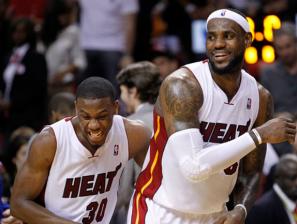 Pacers Visit Heat for Game Four of Eastern Conference Finals on Monday
Heat out for three-game win streak
Miami is hoping for a three-game win streak when tonight's game is all said and done. It would mean that they have a 3-1 lead in the Eastern Conference Finals before the series shifts back to Indiana for game five. Miami needs to come out firing in order to put the Pacers at an early disadvantage and kill their confidence for yet another game. Should Miami grab the victory tonight, this series could come to a close in just five games.
Pacers must tie this series before returning home
If Indiana wants to compete in the rest of the East Finals, it must win game four on the road tonight. Should the Pacers fall in game four, they will have their backs against the wall upon returning home for game five on Wednesday of this week. The Pacers had an early lead in game three, but could not hold their 42-38 halftime advantage in the second half of the contest. Indiana hopes it can rebound from two tough losses to tie the series tonight.
With game four looming large on Monday night for both teams, the Pacers are the team desperate for a win. The Heat should be able to control the tempo of the game on Monday night, taking down the Pacers as we drop 15 percent of our bankroll on Miami at SportsBetting.ag with the -6.5 (-105) spread.