News - Wed 27/08/2014 - 16:01 EDT
Orioles Out to Win Three Straight Over Rays Wednesday Night at Home
Baltimore has expanded its lead in the AL East to seven games, but they are not happy just yet. They are still being chased by the Yankees. Tampa Bay has dropped out of the East race and have fallen to 8.5 games out of the second spot in the Wild Card race in the American League. The Orioles have taken the first two games of this four-game set, and we like them to win game three tonight.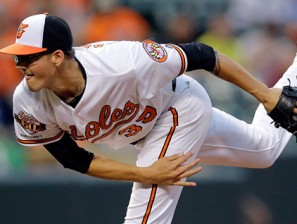 Orioles Out to Win Three Straight Over Rays Wednesday Night at Home
Orioles loving life atop the AL East late in the season
It has been a fun season so far in Baltimore for the Orioles. They hold a seven game advantage over the second-place New York Yankees, but are not getting ahead of themselves. Baltimore has enjoyed playing at home as they are 10 games over the .500 mark heading into tonight's contest. Kevin Gausman will take the mound with a record of 7-5 and a 3.81 ERA for the Orioles, who look to stay hot at home.
Rays beginning to focus on next season as September nears
Tampa Bay traded away its ace, David Price, at the deadline. They received a nice package of players in return, including lefty Drew Smyly. Since joining Tampa Bay's rotation, Smyly is 2-1 with a 1.55 ERA in four starts. In his last start, Smyly two-hit the Blue Jays in an 8-0 Rays win. He will look to do much of the same against Baltimore on Wednesday in the third game.
Baltimore is loving life at home right now. They will continue their four-game series against the visiting Rays on Wednesday night. Baltimore will look to take the first three games of this series when the two teams take the field at Oriole Park. We will bet 10 percent of our bankroll on Baltimore and the -114 money line at BetOnline.ag later tonight as they grab another win.