News - Fri 29/08/2014 - 22:12 EDT
Orioles Host Twins for Four Games Beginning Friday Night in Maryland
Baltimore is moving closer to the AL East title, but the race is not over just yet. They have a seven-game lead over the Yankees as they open a four-game series with the last-place Twins. Miguel Gonzalez will get the ball for the Orioles and rookie Trevor May will take the mound for the Twins. May is still looking for his first career win. We will back the Orioles as they grab the series opener tonight.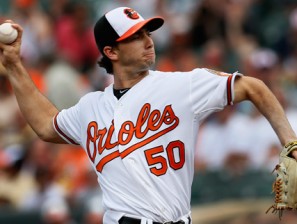 Orioles Host Twins for Four Games Beginning Friday Night in Maryland
Orioles out to extend lead in the AL East
Baltimore can use this four-game set with the Twins to really extend their already big lead in the AL East standings with the month of September just days away. Gonzalez will look to pull his record to the .500 mark as he continues to lower his already impressive 3.75 ERA this season. He spent a little bit of time at Triple-A recently, but is back and looking strong for the Orioles as they head down the stretch with a playoff berth in view.
Twins hoping May becomes rotation fixture in Minnesota
Trevor May has not seen Major League success yet, despite pitching well in the minors this year. So far with the Twins he is 0-3 with an 8.79 ERA. His last start, against the Detroit Tigers, was the first in which he did not walk a batter. This will be his fourth Major League start. He came over to the Twins in the trade that sent Ben Revere to Philadelphia. The Twins have yet to secure their 60th win of the season coming into tonight's game.
We will look to the betting odds found at SportsBetting.ag on Friday night when the Twins visit the Orioles in Baltimore. Our bet will consist of laying the line in favor of the Orioles as they win the series opener. We will drop 10 percent of our bankroll on the -1.5 (+105) spread on Friday night.