News - Fri 16/05/2014 - 20:34 EDT
New York and Montreal Open Eastern Conference Finals Saturday Afternoon
The Eastern Conference Finals get underway on Saturday afternoon when the Canadiens host the Rangers for game one. Both of these teams played gritty, seven-game series to reach this point, knocking off the Bruins and the Penguins respectively. Both of these teams will benefit from the extra day off heading into game one. This is another series that is bound to go the distance as we take Montreal in the opener in front of their raucous fans.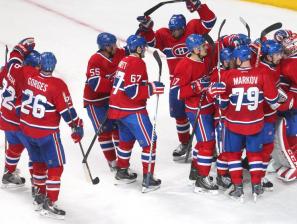 New York and Montreal Open Eastern Conference Finals Saturday Afternoon
Canadiens prepared for everything thrown their way
Montreal will be challenged greatly once again as they take on the upstart Rangers. The Canadiens needed every bit of their energy and talent to take down the Bruins in seven games to reach the Conference Finals. Montreal will have the support of their home crowd on Saturday afternoon, which is a major plus, but who needs any added encouragement in the Finals? Certainly not the Canadiens, who are riding high right now.
Rangers not scared of any opponent
New York took down divison rivals in the first two rounds of the playoffs, the Flyers and the Penguins, to get to the Eastern Conference Finals. The Rangers entered the post-season as the five-seed and now they find themselves playing the Canadiens for a berth in the Stanley Cup Finals. How will all of this play out in the East? We will find out very soon as game one is scheduled for an afternoon start on Saturday.
We look to the oddsmakers who work at Sportsbook.ag to find the betting odds for Saturday's game one between the Rangers and the Canadiens. Montreal is home chalk at -1.5 (+230) with New York in the house. We are going to back the Canadiens with 15 percent of our bankroll as they roll the Rangers in the opener and take the early 1-0 lead in the Eastern Conference Finals.