News - Mon 01/09/2014 - 22:44 EDT
Nationals and Dodgers Open Three-Game Series in Los Angeles on Labor Day
As the month of September begins in Major League Baseball, there are only a handful of teams still competing for their playoff lives right now. Two of those teams are the Dodgers and the Nationals. Both of these teams are also fighting for the top spot in the league as the playoffs near. We will back the NL East's top team, the Nationals, in this contest with the Dodgers out in California.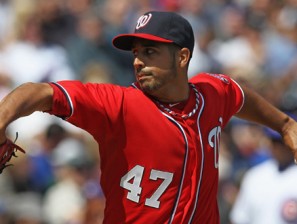 Nationals and Dodgers Open Three-Game Series in Los Angeles on Labor Day
Nationals sending lefty Gonzalez to the mound
With the Braves loss today to the Philles, they were no-hit, the Nationals can expand their lead in the NL East to seven games with a win. Gio Gonzalez will take the mound looking for his seventh win of the season to go with nine losses. His ERA stands at 3.86 on the season. This series is a possible preview of a National League playoff series that could be one for the ages this year.
Dodgers look to expand small lead in the West
The Dodgers are working to win two battles as the playoffs get closer; the NL West title and the top spot in the National League. They hold a 2.5 game lead on the Giants in the West and are tied with Washington for the best record in the league. They need to put a win streak together since the Giants have won six games and closed the gap in the standings. They send trade deadline acquisition Roberto Hernandez to the mound tonight.
When the Dodgers host the Nationals for the first game of three out in California tonight, we will find the betting odds over at Sportsbook.ag. Despite being on the road, and on the West Coast, the Nationals are favored to win this contest. We will drop 10 percent of our bankroll on the Nationals and the -114 money line as they secure the opener.