News - Fri 02/05/2014 - 20:06 EDT
Minnesota and Chicago Play Game One of Second-Round Series Friday
As we move deeper into the NHL playoffs, we begin to see which teams are true Stanley Cup contenders. One of those true contenders hosts game one on the second-round on Friday night. The Blackhawks took care of the Blues in six games to reach this point. Minnesota needed all seven against Colorado. We like Chicago to grab a game one win tonight at home.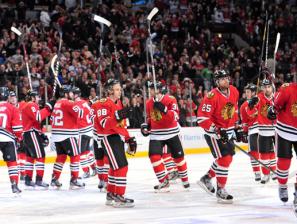 Minnesota and Chicago Play Game One of Second-Round Series Friday
Blackhawks well-rested for familiar foe
Chicago knocked the Wild out of the playoffs in the first-round last year en route to their second Stanley Cup title in four years. Chicago needed just five games to send the Wild home, but they know that this year's team is very different from the one they faced in the post-season a year ago. After two days of rest, the Blackhawks returned to the ice to practice ahead of this series. Now, they are just hours from game one.
Wild thrilled to be out of first-round
The overtime goal scored by Nino Niederreiter, his second of the game, sent the Wild into a celebration as they took down the Avalanche in seven games. It also propelled the Wild into the second-round of the playoffs for the first time since 2003, when they advanced to the Western Conference Finals. It is still unknown who will start in net for Minnesota on Friday night. Darcy Kuemper got hurt in game seven and had to leave in the middle of the third period.
Chicago is favored at home on Friday night over Minnesota for various reasons; one of those being the rest factor. We think Chicago will win this game due to their playoff experience. We will drop 15 percent of our bankroll on Chicago and the -204 money line at SportsBetting.ag as they take game one of the series and move closer to another run at the Stanley Cup.