News - Thu 14/08/2014 - 16:58 EDT
Max Scherzer and Tigers Look to Sweep Two-Game Set from Pirates Today
There are a couple of early afternoon games on the schedule for today and one of them features the Tigers and the Pirates from Comerica Park. Both of these teams are in the hunt for the playoffs, but Detroit has fallen out of first in the AL Central while Pittsburgh has been inching closer to the top spot in the NL Central the past couple of weeks. We like the host Tigers to win this game sweep the series.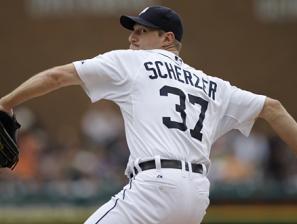 Max Scherzer and Tigers Look to Sweep Two-Game Set from Pirates Today
Scherzer aiming for 14th win of the year
Max Scherzer has been pitching like Justin Verlander of previous seasons. He is 13-4 with a 3.13 ERA coming into tonight and has been dominant of late. Despite throwing two consecutive gems, he has a loss and a no-decision to show for it. He will look to get back into the win column when his Tigers host the Pirates for an afternoon game at the ballpark.
Pirates can close gap in Central with a win
If the Pirates can split this series with the Tigers, and the Brewers continue their struggles, Pittsburgh would be able to pull to within a half-game of first in the NL Central standings. Lefty Francisco Liriano will get the call today and he has been just as good as Scherzer lately. He has lowered his season ERA in each of his last five starts and it is finally under the 4.00 mark at 3.82. He has allowed just six earned runs in his last 32 innings.
Baseball is such an unpredictable sport, which is why it is so popular around the world. Who would have though that the Tigers would be looking up at the Royals in the AL Central this late in the year? Despite this, we like them to win this game, which is why we will bet 10 percent of our bankroll on Detroit at TopBet.eu. Our bet will be for the -180 money line.