News - Wed 27/11/2013 - 19:51 EST
Los Angeles Lakers vs Brooklyn Nets Wednesday NBA Wager Advice
NBA action on Wednesday, November 27, 2013 features a whole slew of games. One of the more interesting games on the slate is the one that has the Los Angeles Lakers and the Brooklyn Nets at 7:30 PM ET at the Barclays Center in Brooklyn, New York. Despite grabbing a win in their last game played, the Nets will struggle tonight as we back the Lakers on the road.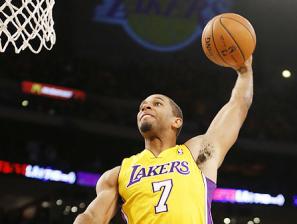 Los Angeles Lakers vs Brooklyn Nets Wednesday NBA Wager Advice
Los Angeles Lakers: Holding steady without Kobe
News broke the other day that Kobe Bryant has signed a two-year extension with the Lakers, but has yet to play a game for his long-time team this season. The Lakers enter tonight's game with an overall record of 7-8, but have a 5-5 record in their previous 10 games played. On the road, the Lakers have just one win against five losses. They have struggled to get things going when away from the Staples Center.
Brooklyn Nets: Trying to get the ball rolling
Brooklyn won its last game played, a 102-100 decision over the Toronto Raptors, to increase its record to 4-10 on the season. They still sit in the bottom of the Eastern Conference standings, but could continue to improve if they can defeat the visiting Lakers on Wednesday night. The Nets are just 2-8 in their last 10 games played and are only 2-3 at home this year. Brook Lopez has not played in the previous six games and Deron Williams has missed the last three games.
We head over to the online sportsbook found at WagerWeb.ag to find the betting line for the NBA contest featuring the Los Angeles Lakers and the Brooklyn Nets tonight. Los Angeles is the underdog by two points on the road, which is why we will back the Lakers to grab the win with the OVER 200 total points at -110 with 10 percent of our bankroll.