News - Wed 08/10/2014 - 22:56 EDT
Los Angeles Kings Open Defense of Cup Title Against San Jose Sharks
After winning their second Stanley Cup title in three years, the Kings will begin their title defense on Wednesday night when the Sharks come calling. The Sharks will be out for revenge after building a 3-0 lead in their playoff series with the Kings, only to lose the next four games and the series. Both of these teams should be playoff bound again this year, but we like Los Angeles to win the season opener tonight.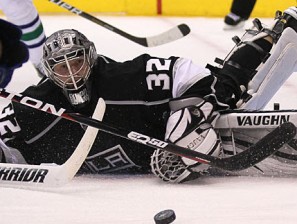 Los Angeles Kings Open Defense of Cup Title Against San Jose Sharks
Kings begin title defense against Western foe
Los Angeles had to win four straight games against the Sharks in last season's playoff series in order to advance after falling behind 3-0. That victory gave the Kings all the momentum they needed to win their second Stanley Cup title in three years. Now, they will look for two straight league titles and three in four years when they begin play for the 2014-2015 season tonight. After a 5-0-2 pre-season, the Kings are ready for the regular schedule to begin.
Sharks out for revenge in season opener tonight
San Jose will need a lot of time to forget the collapse they endured during the post-season last year against the Kings. In all honesty, they might never forget that collapse unless they can win a Cup title this season. In a relatively quiet off-season, the Sharks made a very surprising move by removing Joe Thornton from the captain's role. San Jose has won four straight season openers coming into tonight's contest with the Kings.
On Wednesday night we will use the betting odds found at Sportsbook.ag for the Kings and Sharks contest from the Staples Center. We will drop 10 percent of our bankroll on the host Kings and the -140 money line as they begin their title defense at the expense of the Sharks, who really do not want much to do with the Kings right now.