News - Mon 15/09/2014 - 17:14 EDT
Kansas City Looking to Stay Afloat in Two Races with Chicago in Town Tonight
Kansas City held the top spot in the AL Central for a brief period, but have since fallen to 1.5 games out of first behind Detroit. There is not much time left in the season and Kansas City is fighting for a playoff spot on two fronts. Chicago would love to put a damper on the Royals season by playing spoiler this week, but we just do not see that happening. We like Kansas City in the series opener tonight.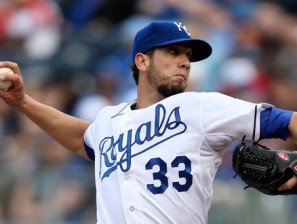 Kansas City Looking to Stay Afloat in Two Races with Chicago in Town Tonight
'Big Game' James takes the mound for K.C.
The Royals will hand the ball to veteran righty James Shields for the opener with the White Sox tonight at Kauffman Stadium. Shields is 14-7 with an ERA of 3.13 this year. Shields has not allowed a run over his last 18.1 innings pitched, which spans his last three starts. He will look to extend that streak on Monday night as he tries to pitch the Royals closer to the top of the AL Central and the AL Wild Card standings.
Danks without a win since July 25
John Danks has seen his career take a major step backwards this season. The veteran lefty has not won a game since July 25 and is 0-5 with a 7.00 ERA over his last eight starts. His season stats are not much better, with a record of 9-11 and an ERA of 5.05. His defense committed five errors the last time he took the mound, which came against the Oakland Athletics. He will look to regain his form tonight and play spoiler to the Royals.
Our bets will be placed at BetOnline.ag on Monday when the Royals host the White Sox for the first of three games. We will drop 10 percent of our bankroll on the Royals and the -227 money line as they grab a key win in their fight for two playoff races.