News - Wed 22/10/2014 - 23:53 EDT
Jake Peavy and Giants Go for 2-0 World Series Lead Over Yordano Ventura and Royals
Game one of the World Series was not that exciting for baseball fans, unless you are backing the Giants. In what has been a post-season loaded with exciting games, many of them decided by just one run, game one was far from the norm. If the Giants continue to hit well, game two could be much of the same for the Giants, who we will back to take a 2-0 lead headed back to San Francisco.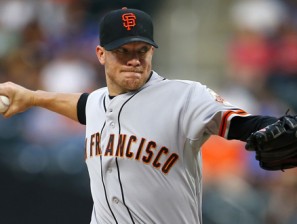 Jake Peavy and Giants Go for 2-0 World Series Lead Over Yordano Ventura and Royals
San Francisco prepared to return home with a 2-0 lead
Giants fans are excited for game two, and the possibility that their team could return home for the middle three games with a strong 2-0 lead in the 2014 World Series. With veteran Jake Peavy on the mound, the Giants are in a good position for this game on Wednesday night. Peavy won a ring with the Red Sox in 2013 and will look for his second consecutive crown. Peavy has pitched well in this post-season after struggling earlier in his career.
Kansas City hoping to put on a show for fans tonight
In what could very well be their final home game of the season, depending on the outcome of this series, the Royals want to leave their fans with something fun to remember. We understand that this is just game two of the series, but the Royals looked utterly over-matched in game one Tuesday night against the Giants. Rookie Yordano Ventura will be tasked with tying this series before it moves to San Francisco.
On Wednesday night we will use the odds found at BetOnline.ag to place our wager for game two of the Fall Classic between the Royals and the Giants from Kauffman. We will drop 10 percent of our bankroll on the visiting Giants and the OVER seven total runs scored at +100 as they take a 2-0 lead early in the World Series.