News - Fri 10/10/2014 - 19:12 EDT
Islanders and Hurricanes Look to Put Last Year in the Rear-View Mirror Tonight
There is just one game on the NHL schedule for Friday night as the Islanders visit the Hurricanes in a battle of two teams looking to forget last season. Both clubs struggled last season, posting less than 40 wins, but both have renewed hope for the 2014-2015 season. Neither team has played a game yet this year, so tonight should be interesting. We will back the visiting Islanders on Friday night as they win their season opener.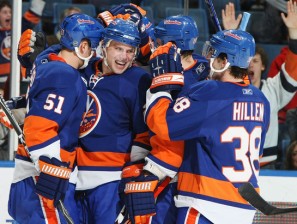 Islanders and Hurricanes Look to Put Last Year in the Rear-View Mirror Tonight
Islanders playing final season in Long Island this year
New York will move to Brooklyn after this season, which means that the Islanders would love to give their fans on Long Island a season to remember in a good way. John Tavares is healthy and back in the lineup after suffering a nasty knee injury playing for Canada at the Olympics last season. He missed the remainder of the season due to his injury.
Hurricanes look to start new win streak against New York
After dropping a contest on March 25 to the Islanders, the Hurricanes saw their six-game winning streak in the series come to an end. Cam Ward should get the start in net tonight. He is 17-3-3 with a goals against average of 2.52 in his career against the Islanders. If the Hurricanes want to have a successful season, they will need Ward to have a better year than last. He was the fifth-worst goalie in the league with 25 or more starts and an GAA of 3.06.
When the Hurricanes host the Islanders on Friday night in Raleigh, we will place our wager at TopBet.eu, where the Islanders are favored on the road. We are going to drop 15 percent of our bankroll on the Islanders and the -125 money line as they win their season opener and begin to put last year in their rear-view mirror.