News - Fri 22/11/2013 - 23:03 EST
Indiana Pacers vs Boston Celtics Friday NBA Online Betting Odds
NBA action on Friday, November 22, 2013 features a whole slew of games after Thursday night's schedule was few and far between. One of the East Coast games tonight features the Boston Celtics and the Indiana Pacers at the TD Garden in Boston, Massachusetts at 7:30 PM ET. With the Pacers boasting a 10-1 record to begin the season, we will back Indiana to grab a win on the road, where they have lost just once.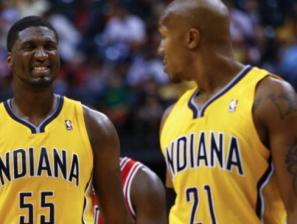 Indiana Pacers vs Boston Celtics Friday NBA Online Betting Odds
Indiana Pacers: Headed for 11th win of the season
Indiana is tied with the San Antonio Spurs for the best record in the NBA with a 10-1 overall mark. On the road, where the Pacers play tonight, they are 4-1. Entering this game, the Pacers are fresh off their 10th win, a 103-96 overtime victory against the New York Knicks. The Pacers have received excellent play from almost everyone on the roster. With a win, the Pacers would snap a four-game losing streak to the Celtics.
Boston Celtics: Trying to snap losing skid
Boston has endured a five-game losing streak after being dismantled by the San Antonio Spurs by a score of 104-93 on Wednesday. The Celtics began the season with a 4-4 mark, but have fallen to 4-9 while in the midst of their five-game skid and have dropped to 12th in the Eastern Conference standings. Obviously there is still plenty of time to turn the season around, but they will have to get things going right now if they wish to do so.
We head over to the sportsbook found at Sportsbook.com to find tonight's NBA betting lines for the Boston Celtics and the Indiana Pacers contest. Despite being on the road tonight, the Pacers are eight-point favorites to defeat the host Celtics. We will bet 15 percent of our bankroll on Indiana with the -8 (-110) line to defeat Boston at the TD Garden.