News - Mon 03/11/2014 - 17:33 EST
Houston Rockets Aiming for 4-0 Start with Visit to Winless Philadelphia 76ers
Houston has jumped out to a 3-0 start to the season while Philadelphia has the exact opposite record at 0-3. Even though Philly head coach Brett Brown said this team will not tank the season, the Sixers do not have enough talent on the roster to even make an effort at not tanking. So, they might not do it on purpose, but they sure will struggle this year. On the other side of the court, the Rockets are ready for another run at the Western Conference title. We like the Rockets in this contest.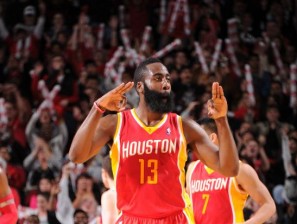 Houston Rockets Aiming for 4-0 Start with Visit to Winless Philadelphia 76ers
Rockets looking to match best start in 18 years
The Rockets are already 3-0 and should have no trouble with the Sixers on Monday night in Philadelphia. Houston has struggled with the Sixers in the past, including a 123-117 loss in overtime to the Sixers in Philly last season. It was the third straight road loss for the Rockets in this series and fifth in their last six games in the City of Brotherly Love. Houston does not know the status of point guard Patrick Beverley, who has a strained left hamstring.
Sixers could challenge own record for fewest losses
The NBA record for fewest losses in a season is held by the Sixers when the team went 9-73 in the 1972-1973 season. The Sixers put up just 19 wins last year, the fewest for the franchise since the 1995-1996 season. The Sixers have lost their first three games of the season by a combined score of 42 points. Philadelphia has hung tough through the first half of all three games, but have not been able to hang with their opponents in the second half.
The Sixers will try to avoid their fourth straight loss to begin the season on Monday night when they welcome the undefeated Rockets to the Wells Fargo Center. We will drop 20 percent of our bankroll on the Rockets and the -9.5 (-110) line at SportsBetting.ag as they move to 4-0 to begin the year.