News - Thu 21/08/2014 - 15:16 EDT
Houston Goes for Three-Game Sweep of Yankees in the Bronx Thursday
If the Yankees want to play in the post-season, they cannot afford to be swept at home against the lowly Astros. They are in danger of dropping three straight to Houston when the two teams meet on Thursday afternoon for their series finale. Dallas Keuchel will oppose Brandon McCarthy, who has lost his last two starts despite strong performances. We like the visiting Astros as they record the sweep in the Bronx today.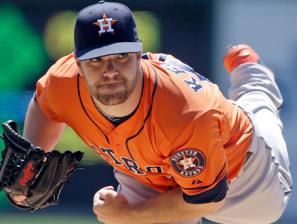 Houston Goes for Three-Game Sweep of Yankees in the Bronx Thursday
Astros putting a damper on Yankees plans
Houston knew coming into this series that the Yankees thought they could gain some ground in the standings. The Astros decided that they would not let that happen on their watch. The Astros have grabbed the first two games of this series and ask their ace to secure the sweep on Thursday. Keuchel is 1-2 with a 2.50 ERA since July 25 and is 10-8 overall with an ERA of 3.11. He will be making his first career appearance against the Yankees.
New York losing grip on playoffs quickly
For the majority of the season the Yankees were thinking about an AL East title. Now, they find themselves 9.5 games behind the Orioles for first and five games out of the second AL Wild Card spot. They are running out of time and options to secure a playoff spot for the 2014 post-season. Brandon McCarthy takes the mound for New York. The Yankees have been shutout the last two times he has pitched, despite him allowing just four earned runs in 12.2 innings over that span.
When the Yankees host the Astros on Thursday afternoon at Yankee Stadium, we will place our wager over at Sportsbook.ag. Despite winning the first two games of this series, the Astros are underdogs today. We still like them to win, which is why we will bet 10 percent of our bankroll on Houston and the OVER eight total runs scored at +110 as they sweep.