News - Mon 06/10/2014 - 19:38 EDT
Giants Ask Bumgarner to Sweep Nationals Out of NLDS on Monday Evening
The NLDS between the Giants and the Nationals will shift to San Francisco today with the Giants leading 2-0 over the team with the best record in the National League. Washington has its back against the wall and will need an improbable effort to survive as they have to face Madison Bumgarner tonight. We will back the host Giants as they move on to the NLCS while sending Washington back home empty-handed.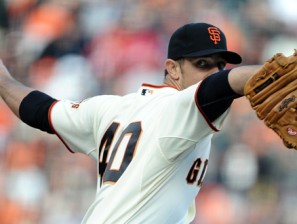 Giants Ask Bumgarner to Sweep Nationals Out of NLDS on Monday Evening
Giants prepared to give home fans a celebration tonight
San Francisco will play its first home game of the 2014 playoffs tonight after winning the Wild Card game in Pittsburgh and taking the first two games of the NLDS in Washington. It must be nice to play in your first home game of the post-season and have a chance to clinch a series victory and move on to the NLCS. San Francisco will hand the ball to Bumgarner, who threw a shutout in the NL Wild Card game.
Nationals strong season on verge of being wasted again
It seems as though this franchise cannot catch a break. Washington finally reached the playoffs in 2012, only to blow a ninth-inning lead in game five of the NLDS to the Cardinals before they were eliminated that night. Now, they enter the 2014 playoffs with the best record in the NL and find themselves down 0-2 in the series to the Wild Card Giants. The Nationals will need a miracle to save their season tonight.
On Monday evening, the Nationals will try to save their season when they visit the Giants in San Francisco. We will place our wager at SportsBetting.ag, where the Giants are slight favorites to win game three of the NLDS. We like the Giants to sweep the series as we drop 10 percent of our bankroll on the -130 money line as they wait for an opponent in the NLCS.