News - Wed 01/10/2014 - 22:49 EDT
Giants and Pirates Collide for NL Wild Card Game Wednesday Night at PNC Park
Major League Baseball has been happy so far with the Wild Card game since its inception in 2012. The Pirates and the Giants will meet for the third such contest in the National League, with the Pirates looking to win a second straight year. Madison Bumgarner and Edinson Volquez will face-off on the mound for the right to play the Nationals in the NLDS. We like San Francisco on the road tonight as they move closer to another pennant.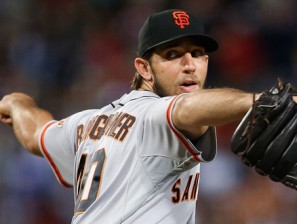 Giants and Pirates Collide for NL Wild Card Game Wednesday Night at PNC Park
Giants seeking third NL pennant in five years.
San Francisco won the National League pennant and the World Series in 2010 and 2012. They can move a step closer to doing so yet again with a win tonight on the road in the NL Wild Card game. This is the first time the Giants will play in this round of the playoffs since it was created for the 2012 post-season. San Francisco will ask Madison Bumgarner to pitch his team into the next round Wednesday night.
Pirates hand the ball to Edinson Volquez Wednesday
Pittsburgh will hand the ball to their most successful project in years, Edinson Volquez, in front of their home fans tonight. Volquez finished the regular season with 18 scoreless innings pitched, lowering his season ERA to 3.04. He has flourished in his first season in Pittsburgh after pitching with Texas, Cincinnati, San Diego and Los Angeles (NL). Volquez would love to keep making a name for himself with a strong outing tonight.
When the Giants and the Pirates get underway at PNC Park for the NL Wild Card game, we will place our wager on the contest at TopBet.eu, where the Giants are actually favored on the road to win. We are going to lay the line of -1.5 (+155) on the Giants with 10 percent of our bankroll as they advance to the NLDS against the Nationals.