News - Mon 22/09/2014 - 17:01 EDT
Giants and Dodgers Battle for NL West Crown Monday Night in Los Angeles
The battle for the National League West crown comes down to this; a three game series beginning on Monday night in Los Angeles between the Giants and the Dodgers. Los Angeles has already clinched a playoff berth, but is now working to win the NL West title. Los Angeles holds a 4.5 game lead on San Francisco in the division, but the Giants are atop the NL Wild Card. We like San Francisco in the opener of this series.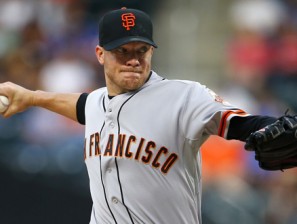 Giants and Dodgers Battle for NL West Crown Monday Night in Los Angeles
Giants not ready to relinquish the West just yet
San Francisco is 4.5 games out of first in the NL West, but a win on Monday night would certainly make things interesting. Jake Peavy will be tasked with securing a victory tonight over the Dodgers in an effort to stay in the battle for the NL West title. A loss would put the Giants elimination number at one heading into Tuesday's game. Peavy is 6-4 with a 2.16 ERA since joining the Giants.
Dodgers prepared for a fight in this series
Los Angeles knows that winning the NL West will not be an easy task, but it can be done in this series with just two wins. The Dodgers would love to secure the division title at home in front of their fans and can make Tuesday night a lot of fun if they win the opener tonight at Dodger Stadium. Dan Haren will get the ball with a record of 13-11 and an ERA of 4.14.
We will visit the sportsbook found at TopBet.eu, where the visiting Giants are slight underdogs in this NL West battle. We will bet 15 percent of our bankroll on the Giants and the OVER seven total runs scored on Monday night as they take the opener of this series from the Dodgers in what should be a very exciting series as the season winds down.