News - Fri 19/09/2014 - 16:46 EDT
Dolphins Look to Hand Chiefs Third Loss of the Season Sunday Afternoon
As week three of the NFL season resumes, the Dolphins prepare for an AFC contest against the Chiefs. Miami is 1-1 to begin the year while Kansas City has opened with an 0-2 mark in the second year of Andy Reid's reign. Both teams are without their running backs for at least Sunday's contest, which can alter how this game is played. We like Miami at home to send Kansas City to an 0-3 start to the season.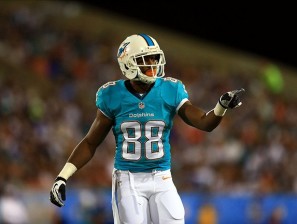 Dolphins Look to Hand Chiefs Third Loss of the Season Sunday Afternoon
Dolphins need Ryan Tannehill to step up his game
If Ryan Tannehill wants a nice contract extension from Miami, he needs to step up his game and it must begin with the game against Kansas City on Sunday. He will really need to play well in order for the Dolphins to win this game since Knowshon Moreno is out for at least four weeks after dislocating his elbow last week in the team's loss to the Buffalo Bills.
Chiefs hope Alex Smith contract pays off in Kansas City
Alex Smith has not played like he deserved the contract extension he was given prior to the season. He too might be without a star running back for at least Sunday's game as Jamaal Charles suffered a high ankle sprain in the team's loss to the Denver Broncos last week. Charles has not been ruled out, but he has the type of injury that requires at least a week of rest in order to recover.
Kansas City is in desperate need of a win while Miami would love to keep pace in the AFC East early in the season. We will place our bet on this AFC contest at Sportsbook.ag on Sunday afternoon. We will drop 15 percent of our bankroll on the host Dolphins as we lay the line of -4 (-110) as Miami drops Kansas City to 0-3 to begin the 2014 season.