News - Wed 18/12/2013 - 18:39 EST
Dallas Cowboys vs Washington Redskins Sunday NFL Betting Tips
With their season on the line, the Dallas Cowboys will take on the Washington Redskins at FedEx Field in Landover, Maryland for NFL action on Sunday, December 22, 2013 at 1:00 PM ET. The Redskins season is already over, so they will be playing to keep their division rivals out of the playoffs. We will back the host Redskins to grab the win at home on Sunday.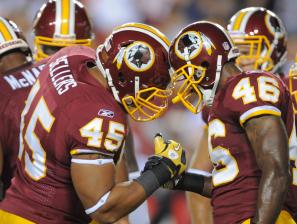 Dallas Cowboys vs Washington Redskins Sunday NFL Betting Tips
Washington Redskins: Playing role of spoiler
Washington can play the role of spoiler on Sunday afternoon when they host the Dallas Cowboys for an NFC East contest. These two teams absolutely despise each other and the Redskins will do their best to prevent Dallas from reaching the playoffs. They will have to do it with backup quarterback Kurt Cousins at the helm of the offense for the rest of the season as Robert Griffin III rests his battered body.
Dallas Cowboys: Headed for disappointing finish
After suffering an ugly loss at home to the Green Bay Packers on Sunday night, the Cowboys find themselves in a bad situation heading into their final two games of the regular season. Even though Philadelphia lost on Sunday, the Cowboys are still one game behind the Eagles for first in the East. They need to win their final two games to win the division title. Dallas is in a lot of trouble and it all begins with the Redskins on Sunday.
For Sunday's NFC East tilt between the Dallas Cowboys and the Washington Redskins, we find the betting odds at WagerWeb.ag. Even though Dallas is favored by three points to win this game, we will still back the Redskins. We will take Washington with the UNDER 53.5 total points scored at -110 on Sunday afternoon as the Redskins ruin the Cowboys season with one game remaining after this weekend.