News - Mon 05/05/2014 - 20:14 EDT
Clippers and Thunder Open Round Two of NBA Playoffs Monday Night
How can these NBA playoffs get any better? The answer is quite simple; pair the Clippers and the Thunder for a second-round tilt that features some of the game's best young players. This is the first post-season meeting between the two teams and it should be an absolute good one. We will take the host Thunder in a tightly fought game on Monday night as they take an early 1-0 lead in the series.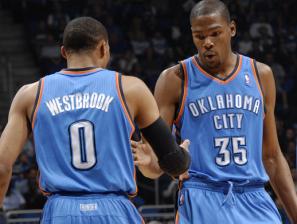 Clippers and Thunder Open Round Two of NBA Playoffs Monday Night
Thunder ready for anything playoffs have to offer
After taking down the Memphis Grizzlies in seven games to open the playoffs, the Thunder are prepared for whatever is thrown their way in the post-season. Oklahoma City will need to play a more well-rounded game if they want to end this series quickly, which most likely will not happen. With the Clippers their opponent, this series seems destined to go the full seven games. If it does, we see the Thunder prevailing.
Clippers moving past comments and deeper into playoffs
Los Angeles not only had to overcome a tough first-round opponent, but also racist comments made by their owner, Donald Sterling. Los Angeles was able to overcome all the adversity thrown their direction and take down the Golden State Warriors in seven games. Chris Paul has been dealing with a sore right hamstring. This could be problematic against the Thunder's speed on the court. But, Paul hopes to be healthy by the time game one starts on Monday night.
In what could be the most exciting playoff series of this year's post-season, the Thunder and the Clippers are preparing for game one. We find the betting odds at Sportsbook.ag, where the host Thunder are favored by just five points. We will lay the line and take Oklahoma City with 15 percent of our bankroll as they grab the game one win.