News - Mon 02/06/2014 - 22:23 EDT
Cardinals Host Royals Monday Night in St. Louis for Interleague Game
Two Central division teams from opposing leagues will meet for game one of a brief, two-game set on Monday night in St. Louis when the Cardinals host the Royals. The game is scheduled for 8:00 PM ET these two up-and-down teams. St. Louis looks to get into a rhythm while Kansas City has zero power at the plate. We like St. Louis to grab the win tonight at home.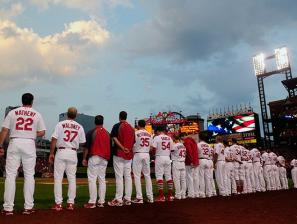 Cardinals Host Royals Monday Night in St. Louis for Interleague Game
Cardinals want to make statement against K.C.
St. Louis hosts Kansas City in a brief interleague series beginning on Monday night at Busch Stadium. These two games are the front end of a home-and-home with the Royals. Shelby Miller takes the mound for the Cardinals. He looks to rebound from two tought losses in a row. In his last outing, Miller allowed seven earned runs in five innings of a loss to the New York Yankees. He will try to get back into the win column tonight.
Royals trying to find power stroke at the plate
Kansas City is one of the worst teams in the Majors when it comes to power at the plate. They have the lowest total of home runs hit even though they have recalled struggling third baseman Mike Moustakas from Triple-A following an injury to Danny Valencia. Danny Duffy takes the hill for the Royals in just his second career appearance against St. Louis. He took the loss during his rookie season of 2011 in just 3.2 innings pitched.
We look to TopBet.eu to find the betting odds for tonight's MLB contest between the Royals and the Cardinals from St. Louis. St. Louis is home chalk in this interleague game and we will drop 10 percent of our bankroll on the Cardinals to grab the win in the opener of this home-and-home series as we lay the line.