News - Wed 15/10/2014 - 18:01 EDT
Cardinals Attempt to Pull Even with Giants on the Road Wednesday Night
After literally throwing the game away on Tuesday afternoon, the Cardinals find themselves down 2-1 in the NLCS to the Giants. St. Louis will send Shelby Miller to the mound for just his second career playoff start while San Francisco counters with veteran Ryan Vogelsong. The Giants have won all of Vogelsong's playoff starts, but today could be different as we back the Cardinals on the road as they even this series at two games apiece.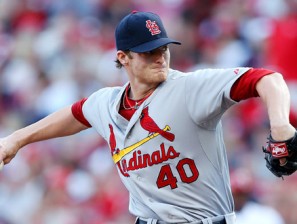 Cardinals Attempt to Pull Even with Giants on the Road Wednesday Night
Shelby Miller out to make a name for himself
Miller made a name for himself in the playoffs as a reliever earlier in his career, but now he looks to do the same as a starting pitcher. Miller made his playoff debut as a starter in game four of the NLDS against the Dodgers, helping the Cardinals clinch the series victory. He lasted just 5.2 innings in the game and was rescued by Matt Adams' late-game heroics.
Ryan Vogelsong looks to win sixth playoff start of career
Vogelsong is the only pitcher in MLB history to allow just one run or less in his first five playoff starts. He looks to continue that streak on Wednesday night as he makes his second start of these playoffs and sixth of his career. Vogelsong boasts a 1.19 ERA in the playoffs and the Giants have won all of his starts, including game four against Washington in this year's NLDS.
Wednesday night features game four of the NLCS between the Giants and the Cardinals from AT&T Park in San Francisco. We will use the betting odds found at SportsBetting.ag to place our bet, which will be for the visiting Cardinals. We will drop 15 percent of our bankroll on St. Louis and the OVER seven total runs scored at -115 on Wednesday night as they even the series at two against the Giants.