News - Fri 17/10/2014 - 20:12 EDT
Canucks Look to Stay Unbeaten Against Winless Oilers Friday Night
Vancouver enters tonight's NHL contest without a loss and they will visit Edmonton, a team that has yet to win a game in the new 2014-2015 season. Despite their winless record, the Oilers do have a lone point on the season from a shootout loss. The Canucks have four points in the only two games they have played. We are going to back the Canucks on the road Friday night as they win their third straight game.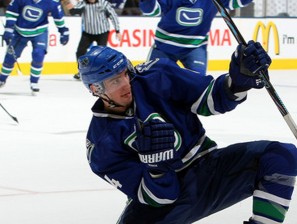 Canucks Look to Stay Unbeaten Against Winless Oilers Friday Night
Vancouver enjoying successful start to the season
The Canucks have played just two games to begin the 2014-2015 season, winning both of them by a total score of 9-6. Their second win of the season came against the Edmonton Oilers in a shootout on Saturday. Vancouver has had a weird schedule to begin the year playing just two games, but they are prepared for a hungry Edmonton team still looking for its first win.
Edmonton being outscored at a high rate to begin year
As the new season is just over a week old, the Oilers are already 0-3-1 on the season through four games. They have just one point, which is tied for lowest in the league with the Florida Panthers. The Oilers have been outscored 13-5 in their last two games and 23-11 overall to begin the season. They have allowed an average of 5.5 goals this season and have allowed five power play goals.
On Friday night, when the Canucks visit the Oilers in Edmonton, we will visit Sportsbook.ag to find the betting odds for this NHL contest. We will drop 15 percent of our bankroll on the visiting Canucks as they drop the Oilers for a second time this season in as many meetings. We like the OVER 5.5 total goals scored in this contest as Edmonton gets throttled for its fourth loss of the season.