News - Mon 10/11/2014 - 16:22 EST
Bulls Again Without Derrick Rose as Pistons Visit on Monday Night
The Bulls are unsure of Derrick Rose's status going into tonight's game at home with the Pistons, which is nothing new for them. Detroit has won just two games to begin the new season and is 0-2 on the road. Both teams have glaring issues early in the season, but the Bulls are really struggling with rebounding. Detroit is averaging only 92 points per game on offense. We like the host Bulls to win this Central Division battle.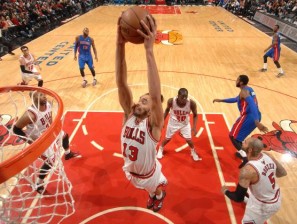 Bulls Again Without Derrick Rose as Pistons Visit on Monday Night
Bulls being dominated on the boards
Chicago, despite being 5-2, has been dominated on the boards over the past six games. In fact, they have been out-rebounded by their opponent in six straight contests. This is the first time the Bulls have been out-rebounded six straight times under head coach Tom Thibodeau. Rose has sat out the last two games and has missed four of the last five. He is in line to miss a third straight game on Monday night.
Pistons trying to find some offense
Detroit has allowed almost 96 points per game on defense and is not faring any better on the offensive side of things. They are averaging just 92 points scored per game, which has led them to begin the season with a 2-4 mark and without a win on the road. Detroit has lost 15 of their last 16 on the road against Chicago. They dropped a tough decision to Utah at home on Sunday, scoring just one basket in the final 2:50 of the game.
When the Bulls host the Pistons on Monday night in Chicago, we will use the odds found at BetOnline.ag to place our wager. We like Chicago to win this contest, which is why we will drop 15 percent of our bankroll on the -9 (-110) spread as they take down the Pistons yet again at the United Center and move to 6-2 on the year.