News - Mon 24/11/2014 - 22:17 EST
Buffalo in Must-Win Mode as Home Game Moved to Detroit Amidst Nasty Storm
After a massive snowstorm pummeled Buffalo, the Bills and Jets game scheduled for this past Sunday had to be moved to a neutral site. The game will be played at Ford Field in Detroit on Monday night. New York is a dismal 2-8 in what should be Rex Ryan's final season as head coach, while Buffalo is 5-5 and fighting for their playoff lives. We like the Bills in Detroit as they hand New York a 9th loss on the season.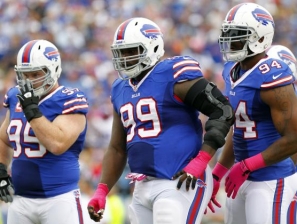 Buffalo in Must-Win Mode as Home Game Moved to Detroit Amidst Nasty Storm
Bills move home game to Detroit following massive storm
After a snowstorm dropped feet upon feet of snow on Buffalo, the Bills were forced to move their game from Sunday at home to Monday night in Detroit. It was announced today that Buffalo should be able to play their next home game, this coming Sunday, in Buffalo. The final tally of snow that fell in Buffalo came in around five feet and it would have been impossible to remove the snow from the field and stands prior to the game on Sunday.
Jets look to spoil Bills playoff efforts Monday night
New York has just two wins on the season, with their most recent snapping an eight-game losing streak. They took down the Pittsburgh Steelers in surprising fashion in week 10 before enjoying a bye in week 11. Now, they look to put the Bills playoff hopes in serious jeopardy by grabbing a victory in Detroit on Monday night. This should be the final season that Rex Ryan is head coach of the Jets.
On Monday night, the Jets will take on the Bills at Ford Field in Detroit to make-up their postponed game from Sunday. We will use the odds from Sportsbook.ag to place our wager. We are going to back the Bills with 15 percent of our bankroll as they record a victory on neutral territory with the -3 (-105) spread.