News - Fri 31/10/2014 - 19:06 EDT
Broncos and Patriots Meet Sunday Afternoon for Much Anticipated AFC Matchup
One of the most anticipated games of the season will finally be played this weekend when the Broncos take on the Patriots at Gillette Stadium. Two of the best quarterbacks in the history of the league will face-off as Peyton Manning and Tom Brady meet for the 16th time. Brady is 10-5 against Manning, including the playoffs, but Denver beat New England in the AFC title game last year. We like Denver on the road this weekend.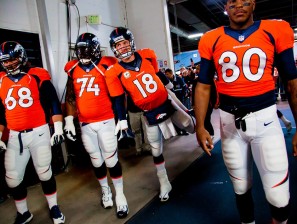 Broncos and Patriots Meet Sunday Afternoon for Much Anticipated AFC Matchup
Manning and Broncos playing for best record in the AFC
A win for the Broncos on Sunday and Denver will have the best record in the AFC through the first nine weeks of the NFL season. Denver's offense has not skipped a beat, scoring first in five of their games this season. Denver has opened the season with a 6-1 record, with their lone loss of the year coming on the road. This will be just their third road game in 2014.
Brady and Patriots know what's at stake on Sunday
If the Patriots can send the Broncos home losers, they will not only grab the top spot in the AFC standings, but also send a message to the rest of the league that they are still the team to beat in the conference. Brady and Manning have traded single season touchdown passing records during their career, which has made this rivalry so much more exciting over the years.
When the Patriots host the Broncos on Sunday afternoon, we will use the odds found at BetOnline.ag to place our wager. Denver is favored by just three points on the road as of Friday afternoon. We are going to drop 15 percent of our bankroll on the Broncos and the OVER 54 total points scored at -110 as this game features a see-saw battle that will go down to the wire.