News - Fri 22/08/2014 - 20:57 EDT
Braves Look to Build on Momentum in Game Two Against Reds in Cincinnati
Atlanta has dropped to seven games behind the Nationals for the top spot in the NL East. They grabbed a win in game one of their series with the Reds yesterday by a score of 8-0. They need to win game two since the Nats will not lose right now. Cincinnati has pretty much seen their season come to an end. They are 10.5 games out in the Central and seven out in the Wild Card. We like Atlanta on the road today.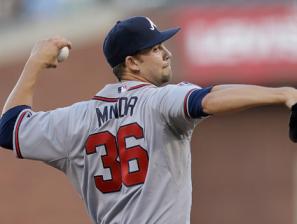 Braves Look to Build on Momentum in Game Two Against Reds in Cincinnati
Braves need to go on lengthy run in the East
In order to keep pace with the Nationals, or even gain some ground, the Braves need to string together some wins. They are 7-3 in their last 10 games played and won the opener with the Reds on Thursday. Lefty Mike Minor will take the mound with a 5-8 record an an ugly ERA over five. He has begun to regain his form and the Braves will need him down the stretch.
Reds season quickly slipping away in two races
Even with the addition of a second Wild Card spot, the Reds are running out of time to make a run at the post-season. They are double-digit games out of first in the Central and are closing in on that mark in the Wild Card race. Cincinnati will send Mat Latos to the mound with a 4-3 record and an ERA of 3.10 in limited action this season due to a lengthy stay on the disabled list. This will be just his 13th start of the season.
Atlanta is in need of some wins as they shift their focus to a Wild Card spot. They are just one-game out of the second spot in the NL Wild Card race coming into today. We will bet 10 percent of our bankroll on the Braves and the -107 money line over at Bovada.lv as they take the second game of this series from the Reds.