News - Mon 17/02/2014 - 20:51 EST
Big-12 Battle Features Baylor and Oklahoma State on Monday Night
The Big-12 conference has just one game scheduled for Monday night and it features the Oklahoma State Cowboys and the Baylor Bears. Both of these teams have enjoyed successful seasons, when they are not playing conference opponents. In the conference, the teams have identical 4-8 records. Both teams are 16-9 overall, but something has to give in Waco, Texas tonight as we back the host Bears with the win.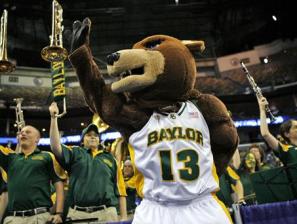 Big-12 Battle Features Baylor and Oklahoma State on Monday Night
Baylor Bears looking for late-season explosion
Baylor comes into this contest with just four wins in the Big-12, but can climb the conference standings beginning with a win over Oklahoma State tonight. The Bears are riding a brief, two-game winning streak coming into this game, but are taking things one game at a time. In order to get to the big dance, the Bears will need to focus on winning games against their conference opponents.
Oklahoma State Cowboys suffering through ugly swoon
The Cowboys come into tonight's game in the midst of a six-game losing streak, dropping their record from 16-3 to 16-9. This is a major difference that puts their post-season chances in serious jeopardy. The Cowboys sit close to the bottom of the conference, but cannot finish in the basement since TCU is 0-12 against Big-12 teams so far this year. Oklahoma State needs to win tonight and string together a host of wins if they want to turn their season around.
Over at the online sportsbook found at Sportsbetting.ag, the oddsmakers have the Baylor Bears as decent favorites tonight when the Oklahoma State Cowboys come to town. As 5.5-point favorites in Texas, the Bears should enjoy a third consecutvie win on Monday night as the Cowboys drop their seventh straight game, sending them further into oblivion. We are going to lay the line with 15 percent of our bankroll as the Bears grab another Big-12 win.