News - Thu 06/11/2014 - 23:09 EST
Battle of Ohio Resumes in the NFL Thursday Night as Cleveland Visits Cincinnati
It is Thursday, which means that another NFL game is scheduled for a national broadcast. Will it follow the rest of the Thursday games and be a complete blowout? Or, will this contest actually be fun to watch? Cincinnati and Cleveland will play in this game and they come from the tightest division race in the league; the AFC North. Cincinnati is in first place while Cleveland is in third. The top three teams are separated by just percentage points. We like the Bengals at home in this contest.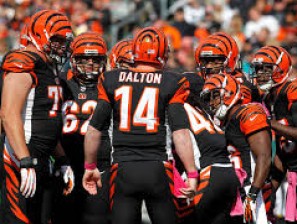 Battle of Ohio Resumes in the NFL Thursday Night as Cleveland Visits Cincinnati
Bengals look to remain atop AFC North standings
With a 5-2-1 record, the Bengals have a winning percentage of .688, which is good for first place in the division standings. Cincinnati will need to win tonight to remain at the top of the division as Pittsburgh and Cleveland are just percentage points behind them in the standings. The Bengals have yet to lose a game at home this year, but their tie did occur at Paul Brown Stadium.
Browns want to make statement and end road woes
Will Cleveland compete for a playoff spot this year? They enter tonight with a 5-3 record and are just percentage points behind Cincinnati in the AFC North. Not only do they want to make a statement with a win tonight, but they also want to end their road woes against divisional opponents. The last time the Browns won a divisional road game was September 28, 2008. It was a 20-12 victory over the Bengals. Since that win, the Browns have lost five straight in the series when playing in Cincinnati.
When the Bengals and the Browns collide for what should be a fun AFC North contest, we will use the odds found at SportsBook.ag to place our wager. Cincinnati is favored by 6.5 points, which is a fair spread for the game. We like the Bengals to win this contest, but we will put our 15 percent down on the -320 money line as they hand the Browns another divisional road loss and hurt their playoff chances.