News - Wed 18/12/2013 - 18:40 EST
Baltimore Ravens vs Detroit Lions Monday NFL Betting Lines
Week 15 of the NFL schedule concludes on Monday, December 16, 2013 at 8:30 PM ET when the Detroit Lions play host to the Baltimore Ravens at Ford Field in Detroit, Michigan. With both of these teams fighting for playoff spots, this game should provide fans with plenty of excitement and scoring. We are going to back the Ravens on the road tonight.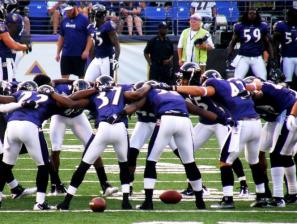 Baltimore Ravens vs Detroit Lions Monday NFL Betting Lines
Baltimore Ravens: Still in the playoff hunt
Despite sitting at 7-6 and in second place in the AFC North, the Ravens can still make the playoffs and defend their Super Bowl title from a year ago. They are just 1.5 games behind the division-leading Cincinnati Bengals in the standings after they dropped their game to Pittsburgh on Sunday night. With a win, the Ravens will pull to within one game of the Bengals in the North with just two games left to play.
Detroit Lions: Fighting for the NFC North
Detroit comes into this game with an identical 7-6 record and the need for a win in order to keep pace with the Chicago Bears, who won on Sunday. A win for Detroit would tie them for the division lead and keep their playoff hopes alive after an embarrassing loss to the Eagles last week in the snow. Look for Matthew Stafford and company to break-out offensively tonight against Baltimore.
We head over to the online sportsbook found at TopBet.eu to find the betting line for tonight's NFL contest between the Detroit Lions and the Baltimore Ravens. Even though they are on the road tonight with a 3-4 record, we are going to back the Ravens to secure their eighth victory of the season as they keep pace in the AFC North battle. We will bet 10 percent of our bankroll on Baltimore and the OVER 50 total points scored tonight in an offensive explosion.