News - Sat 16/08/2014 - 05:39 EDT
Athletics Look to Snap Skid with Visit to Turner Field Against Braves
Oakland has lost three consecutive games after dropping their opener to the Braves in Atlanta by a score of 7-2 on Friday night. Their brief skid has dropped their lead in the AL West over the Angels to just one game. Atlanta has fallen to six games out of first in the NL East behind the Nationals despite their win Friday. We like Oakland to end their skid in this contest in Georgia Saturday night.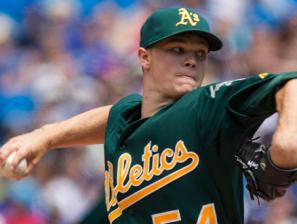 Athletics Look to Snap Skid with Visit to Turner Field Against Braves
Athletics ask Gray to come up golden tonight
Oakland will hand the ball to righty Sonny Gray on Saturday night in the hopes that he can play stopper. Gray is 12 up and 6 down this season with an impressive 2.86 ERA coming into his start against Atlanta. He has lost three straight games, which comes after he won six consecutive games. Gray will try to end two losing streaks on Saturday when he takes the hill in Atlanta.
Braves still fighting for life in the NL East
Atlanta was at the top of the NL East standings for most of the first half of the season, but has fallen to six games behind the Nationals in the standings. They are in danger of falling behind the Marlins and into third place. Miami is just two games behind Atlanta. The Braves will counter with a righty of their own in Julio Teheran. He has struggled in his last seven starts, pitching to an ERA of 5.24 after starting the season with an ERA of 2.29.
When the Braves host the Athletics for an interleague contest on Saturday night we will place our bets over at BetOnline.ag. At this sportsbook, the A's are road chalk to win this game. We will bet 15 percent of our bankroll on the visiting Athletics and the -115 money line as they even the series at one game apiece and end their losing streak.