News - Fri 23/05/2014 - 17:00 EDT
Athletics Look to Continue Hot Streak Against Rolling Blue Jays in Toronto
American League action on Friday pits two very hot teams against each other when the Athletics visit the Blue Jays in Toronto. The Athletics are coming off an extra-inning loss to Tampa Bay while the Blue Jays are fresh off a sweep of Boston. Oakland has the best record in the Majors right now, which is why we like them to win tonight on the road.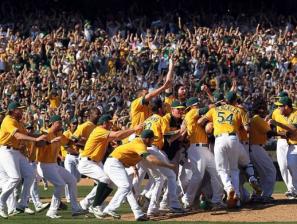 Athletics Look to Continue Hot Streak Against Rolling Blue Jays in Toronto
Athletics out to rebound from tough loss
Following an extra-inning loss to Tampa Bay on Thursday, the Athletics turn right around and play game one of a three-game set against the Blue Jays in Toronto. The A's own the league's best record for the first time since 2002 and look to improve upon it when they send Scott Kazmir to the mound to open the series. Kazmir has a 5-1 record and a 2.39 ERA. Kazmir did not last long in his previous start, being ejected in the second inning for arguing balls and strikes.
Blue Jays exploding on offense of late
Toronto has exploded on offense over the past handful of games, including a three-game sweep of the Boston Red Sox. Edwin Encarnacion is on fire right now, recording back-to-back two home run games this week. Liam Hendricks will make his Blue Jays debut on the mound tonight after pitching to a 1.48 ERA at Triple-A Buffalo. He was claimed off waivers from Baltimore during Spring Training. He has a 5.51 ERA against Oakland in his career.
We will be placing our bets for the Blue Jays and Athletics game on Friday night over at BetOnline.ag, where the A's are favored on the road. We will drop 15 percent of our bankroll on Kazmir and the A's with the -125 money line as they take game one of this series from Toronto. This should be a very exciting series since both teams are mashing the ball right now.